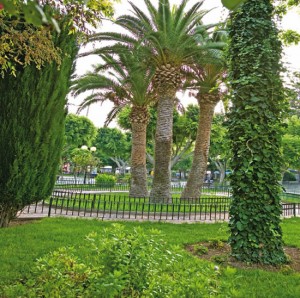 Calle Luis Galiana
3

contact information
Stroll around Jardín de la Glorieta, an historic park in Callosa de Segura where all the family can have a good time.
If you are looking for a place that breathes the peace and quiet of Callosa de Segura, you should absolutely take a look around Jardín de la Glorieta, an historic park that was built in late 1928.
One of the largest parks in Callosa de Segura, Jardín de la Glorieta enjoys a prime location in the town centre.
The garden is a wonderful place to spend your free time. Once you step inside, you will come across an auditorium where you can enjoy live concerts al fresco, an area where you can take gentle strolls, playgrounds that will keep your kids entertained for hours, a relaxation area with terraces and a spectacular fountain.
The park is inhabited by many trees whose leafy canopies provide the perfect place to shelter from the sun's rays.
Of all the trees in the garden, one stands out. The elm is hundreds of years old and its expansive roots have reached as far as the local groundwater. 25m high and with a diameter of 150cm, this is the most striking tree in the Jardín.
So if you're looking to have a good time, momentarily escape the stresses of the everyday and enjoy some pretty scenery, make your way to Jardín de la Glorieta.