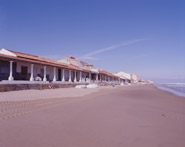 03140

contact information
With its fishing houses sitting on the shore, Babilonia beach is a pretty spot on the Guardamar de Segura coast.
Guardamar del Segura has 11km of beaches and 800 hectares of dunar woodland, a park populated by pine trees, eucalyptus trees and palm trees that flanks the municipality's coastline.
Sitting to the south of the river Segura is Babilonia beach. This unique beach is 1,060m long and is sandwiched between Centre and Els Vivers beaches. It is 20m wide and has golden sands. Open and urban, the beach has moderate waves and strong currents. If you get there early enough, you can find parking.
Babilonia beach has everything you need to take a dip with total peace of mind. There are lifeguards, the Red Cross, access for people with disabilities, restaurants nearby, toilets and showers for washing the sand off your feet. You can get to the beach easily on foot, by car and by bus. The nearest road is Avenida Ingeniero Codorniu.
The houses located at Babilonia beach have an interesting story to tell. The small district was set up in the early 20th century, getting its name from a picnic area located next to a natural pool known as Casa Babilonia. Over time, a community of shop keepers, liberals and workers in the textile and shoe industries started to spend their summers here. An early example of sustainable tourism which sees the visitors live in harmony with the rest of Guardamar del Segura.