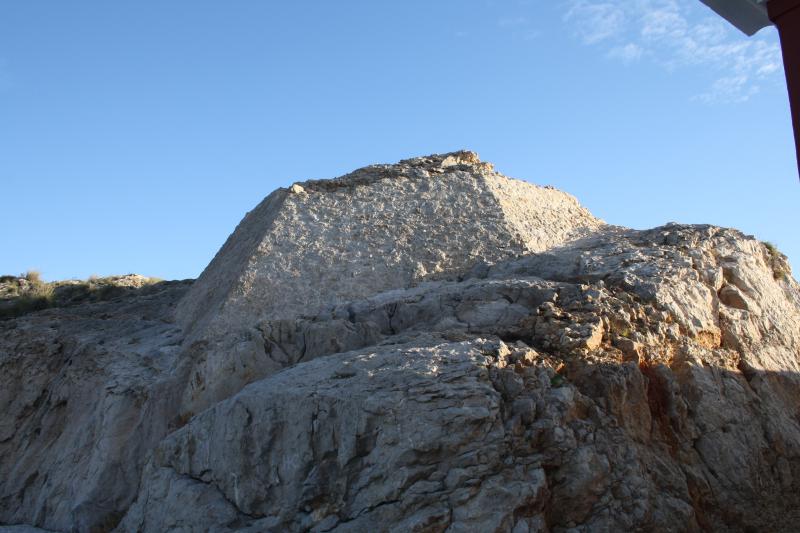 Norte de la Sierra Helada, s/n
03581

contact information
Discover the remains of a defence tower in L'Alfàs del Pi that is listed a Site of Cultural Interest.
In the far north of Serra Gelada in L'Alfàs del Pi sit the remains of Torre Bombarda, a defence tower built in the 16th century.
Torre Bombarda is one of the many defence towers that were built during this period along the Valencia coastline, which was frequently attacked by pirates and Berbers. Defence towers were constructed in strategic places to provide protection from the enemy and, when a threat was spotted, to prepare the defence system.
Torre Bombarda has survived to the present day, but not in its totality. Today, you can still see the polygonal footing, which has an irregular hexagonal plan. The tower was built with lime mortar masonry. There are also remains of plaster: it is believed that in its time the tower was fully plastered.
On the footing, we can still see the beginning of the bottom of the tower, which has a square plan: it is thought that part of the tower was this shape. Torre Bombarda was listed a Site of Cultural Interest in 1996 and was restored in 2011-2012 so that visitors can get a better idea of what it would have looked like. To reach the tower, follow Ruta del Faro del Albir (El Albir lighthouse trail), which is a simple coastal and mountain walk that will take you through Serra Gelada natural park until Faro del Albir (the lighthouse), which sits next to the tower. We hope you enjoy the views.