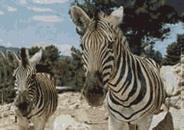 Carretera CV-785 km 20

contact information
In the heart of Sierra de Aitana is Safari Aitana, an oasis of wildlife where you can spot and watch the different animals.
More information
Price
Adultos 17 euros Niños de 4 a 10 anos : 12 euros 
Did you ever imagine you could go on safari in the heart of Sierra de Aitana? Well, you can. Safari Aitana is the perfect place to spend a day or weekend amid the elephants, llamas, giraffes and lions.
The safari is located in the verdant areas of Alicante, close to the villages of Panàguila, Alcoleja and Sella.
But, how did Sierra de Aitana end up with a safari? In 1973, Juan Sevila and María Van Soldt wanted to make a change in their lives and dedicate their time to animals. María came up with the idea of building a safari where the animals can rove around vast spaces. Construction began and the park was inaugurated in 1975. Many years have since passed, but the safari's mission is still very much intact: "to live for and from the animals". The keepers live by this mantra as they care for the animals each and every day.
At Safari Aitana, you can watch and marvel at animals from Europe, Africa, Asia, America and Australia.
The park is the only safari you can take your car to in the Region of Valencia. This is the best way to see the animals in their natural habitat, watching them go about their daily business and observing their habits, relationships and natural behaviour.
Go on safari in the Region of Valencia and live an incredible experience.