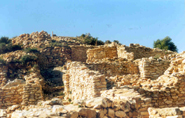 Partida El Puig
12580

contact information
Discover the rich heritage sitting beyond the town wall of the ancient town and archaeological of Puig de la Nao.
Benicarló is home to one of the most important Iberian archaeological sites in the Region of Valencia, Puig de la Nao. This Iberian settlement dates back to the 5th century AC and is well very preserved. During excavation work, a number of interesting Attic ceramics were discovered, including the highlight, the kylix attributed to the painter Penthesilea.
As you explore the layout of Puig de la Nao, the arrangement of its streets, the different buildings the Iberians used for rest, work and worship, you will go back in time to discover how the Iberians used to live.
In terms of architecture, the houses were built with stones that they found nearby. The most interesting buildings in Puig de la Nao are the houses with two floors, connected with stone or wooden stairs, or with access to the upper floor from the higher ground.
The settlement was constructed by first marking out the perimeter of the town wall and then defining the main streets. The streets demonstrate that the layout of the town was planned, seeking to make best use of the space.
You can discover the history and heritage of the settlement by booking a guided tour at the Museo de la Ciudad de Benicarló.
More information
Schedule
Concertar visita