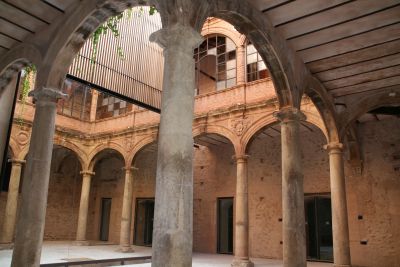 Plaça Major
20

contact information
Palacio Castillo de Betxí is an important exemplar of the Civil Valencian Renaissance style. A masterpiece that you absolutely have to visit during your time in the village.
In the heart of Betxí sits Palacio Castillo, an important exemplar of Civil Valencian Renaissance art and one of the great exponents of noble architecture. Palacio Castillo, also known as the castle of the counts of Ariza, dates back to the 15th-16th centuries and was declared a Site of Cultural Interest in 1997.
The fortress has been restored over the years so you can immerse yourself in times past during your visit. It is thought there was originally a Roman building on the site and Moorish remains, which appear to be a necropolis, have been found. The building you can see today is a Medieval fortress that was converted into a residence in the early 16th century.
In the 19th century, Palacio Castillo underwent a great transformation both in terms of its exterior and inside its age-old cloister. A new level was installed above the Renaissance patio, leading to the private chambers of Pascual Meneu, where you can still see genre paintings, wooden ceilings, painted ceramic bricks and a large staircase built with large slabs of white marble and modernist grilles.
Following its reconstruction, you can see a large central patio with slim cylindrical columns holding up the arches as well as flooring that looks like a chess set with its white and black paving slabs. And there are other artistic styles on display too, including the Baroque door which is still part of the main façade.
When you visit Betxí, make sure you visit its stunning Palacio to soak up the artistry of Valencia.
More information
Schedule