Fiestas Patronales de San Antonio Abad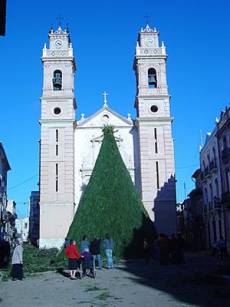 Canals burns one of the biggest bonfires in the world during its patron saint festival. Find out more.
18m tall and 14m wide: the bonfire burnt during the celebration of Canals' patron saint festival, in honour of San Antonio Abad, is simply huge. Not only is this one of the biggest bonfires in the Region of Valencia, it is likely also one of the largest in the world. The local community gather together an impressive 80 tonnes of wood which is later set alight in a blaze of heat and colour. This unique spectacle has resulted in the festival being declared an event of regional and even national tourist interest.
Asides from the bonfire, Fiestas Patronales de San Antonio Abad involves plenty of other events, including processions of the town associations, concerts, parades, mass and more. On the final day, Dels Parells is held, a festival in which animals receive blessings, followed by a vibrant parade in which toys and gifts are handed out. The festivities then come to a close with Les Cassoles, a traditional meal in which the locals sit down to eat arroz al horno.
Come and experience this record-beating festival for yourself. It's on from the 16 to the 18 January.
*Please confirm event times and dates have not changed.
More information
Type of interest
National tourist interest
Autonomous tourist interest