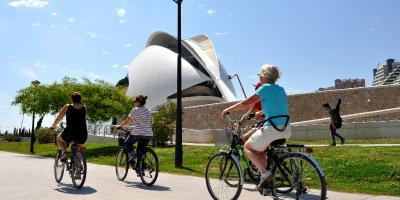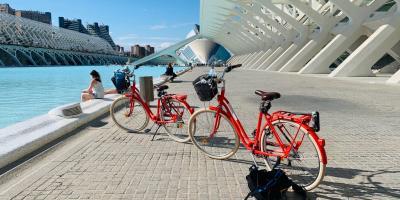 ASOCIACIÓN GUIAS OFICIALES DE TURISMO DE LA COMUNIDAD VALENCIANA
Come ride with us by bike and discover the City and the River of Valencia. From the charming streets of the historic center, we will go through the trace of the old medieval wall. In addition to seeing the great North Station, we will appreciate the remains of the first hospital for the mentally ill, and one of the Towers of this wall, still standing.

Passing through the IVAM, then yes, we will enter the River of Valencia, the Turia, today converted into Gardens, after the great flood of 1957. We Valencians strive to turn this old frontier into a place of recreation, fun and modernity; our true backbone and green lung, where we will see how its illustrious and ancient bridges give way to the Vanguard of the Palau de la Música and the City of Arts and Sciences.
Includes rental bike. Bike rental included. Reservations 48 hours in advance. Second and fourth Saturday of the month. Spanish language. Starting time: 10.00 a.m. Duration, two and a half hours. April: 10/4, 24/4, May: 8/5, 22/5, June: 12/6, 26/6.
# Availability
Start date
End date
M
T
W
Th
F
Sa
Su