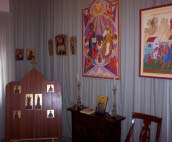 C/ Algemesí,
4
12006

contact information
Gaze at works of art that will transport you to distant times and faraway lands.The Byzantine art collection at Transfiguración del Señor monastery is an excellent cultural sight in Castelló de la Plana.
More information
Schedule
On Fridays from 16:00 to 19:00 and on Saturdays from 10:00 to 13:00.
The museum collection comprises work inspired by the artistic production of the 4th century, as well as Hellenistic and Eastern influences, though the pieces were created much later.
This Byzantine collection counts no fewer than twenty icons that tell the story of different moment in the life of Jesus Christ, as well as other religious figures such as the Virgin Mary and saints. The work was created in modern times by Coptic Christian artists connected to Cairo via the School of Fine Arts.
The icons are faithful to other, much more historic pieces with the only difference being that they use papyrus as a base rather than wooden panels.
If you're putting together a list of things to see and do in Castelló de la Plana, make sure you include the Byzantine collection at Transfiguración del Señor monastery. And if you want to see more culture while you're in the city, you could also head to Museo de Etnología, Museo de Bellas Artes, Museo de la Mar and even Espai d'Art Contemporani. Castelló de la Plana is bursting with culture, experiences and guided tours. Come and enjoy them all.