With its historic sites, great artisanship and a vibrant festival, Onda has got plenty to explore and experience.
Onda is a destination that keeps on giving. In this post we'll point out some of the sights you won't want to miss, tell you about the festivals brimming with local spirit and give you some suggestions of what to eat. Keep reading to make the most of your visit to the town.
What to see in Onda
There's no better place to start your exploration of Onda than at its castle, known as Castillo de las 300 Torres, literally meaning the castle with 300 towers. The fortress was built in the 10th century, but it has been discovered that in the 11th century a palace was added to the structure, a real rarity.

A number of different civilisations inhabited the castle over the centuries. Nowadays, within its walls you can visit Museo de Historia Local, the local history museum, and gaze at a valuable collection of Muslim yesería. You can also see Cueva del Algepsar, another museum that tells the story of what life was like in Onda during the Spanish Civil War.
Next on your list of things to visit is the clock tower which you will come across as you wander through the historic centre that will you envelop you in Medieval Onda. Make sure you see Molí de la Reixa and then cross Sonella, a Medieval bridge, on your way to Museo de Ciencias Naturales, the natural science museum housed in the Carmelite convent.
As you may already know, Onda is famed for its ceramics, a quintessentially Valencian craft that you can explore at Museo del Azulejo.
And now it's time to focus on your palate and Onda's gastronomy. You will want to try the town's delicious olla (a stew-style dish), which is made with Swiss chard, cardoon, spinach, pumpkin and many other delicious ingredients. A good time to try the dish is the final week of September during the Feria de San Miguel festivities or during Semana Santa, Holy Week, when you can also indulge in mona de Pascua, a tasty cake. Don't miss this opportunity to explore and savour everything Onda has to offer.

How to get here:
You can get to Onda by road from the A-7 motorway taking the CV-10 junction. You can also use public transport buses from Vila-real and Castellón.
Find
Name
Types
Hotels
Rural accommodations
Active tourism companies
Events
Experiences
Festivals
Monuments
Museums
Natural Landscapes
Shopping
Some of the biggest names on the flamenco scene are coming to Onda, a town that is no stranger to culture with its impressive castle, beautiful historic centre and fascinating museums.
Running from the 27 to the 29 May, Onda Flamenca will see performances by incredible artists of the likes of Pastora Soler, Siempre Así, Falete, Manzanita, Patxi Ojana, Paradita Flamenca, Efrain, Los Piratas and Colmao, taking to the stage of Teatro Mónaco or performing in the streets. Also part of the event are exhibitions, workshops and afternoon sessions. So what are you waiting for? Come to Onda to enjoy everything the town and this festival has to offer.
*Please confirm event times and dates have not changed.

La Cassoleta is a children's theatre programme running in Onda. The line-up is based on a tried-and-tested format that sees a show performed once a month on a Sunday.
This edition, you can see the following shows: Somnis, Rodar i Rodar, Mari Pompas and Les mil i un histories. All the shows will be performed by Valencian companies on the stages at El Teatro Mónaco and Casa de la Cultura (Sala La Cassola).
Check out the dates and put them in your diary. We look forward to seeing you there.
*Please confirm event times and dates have not changed.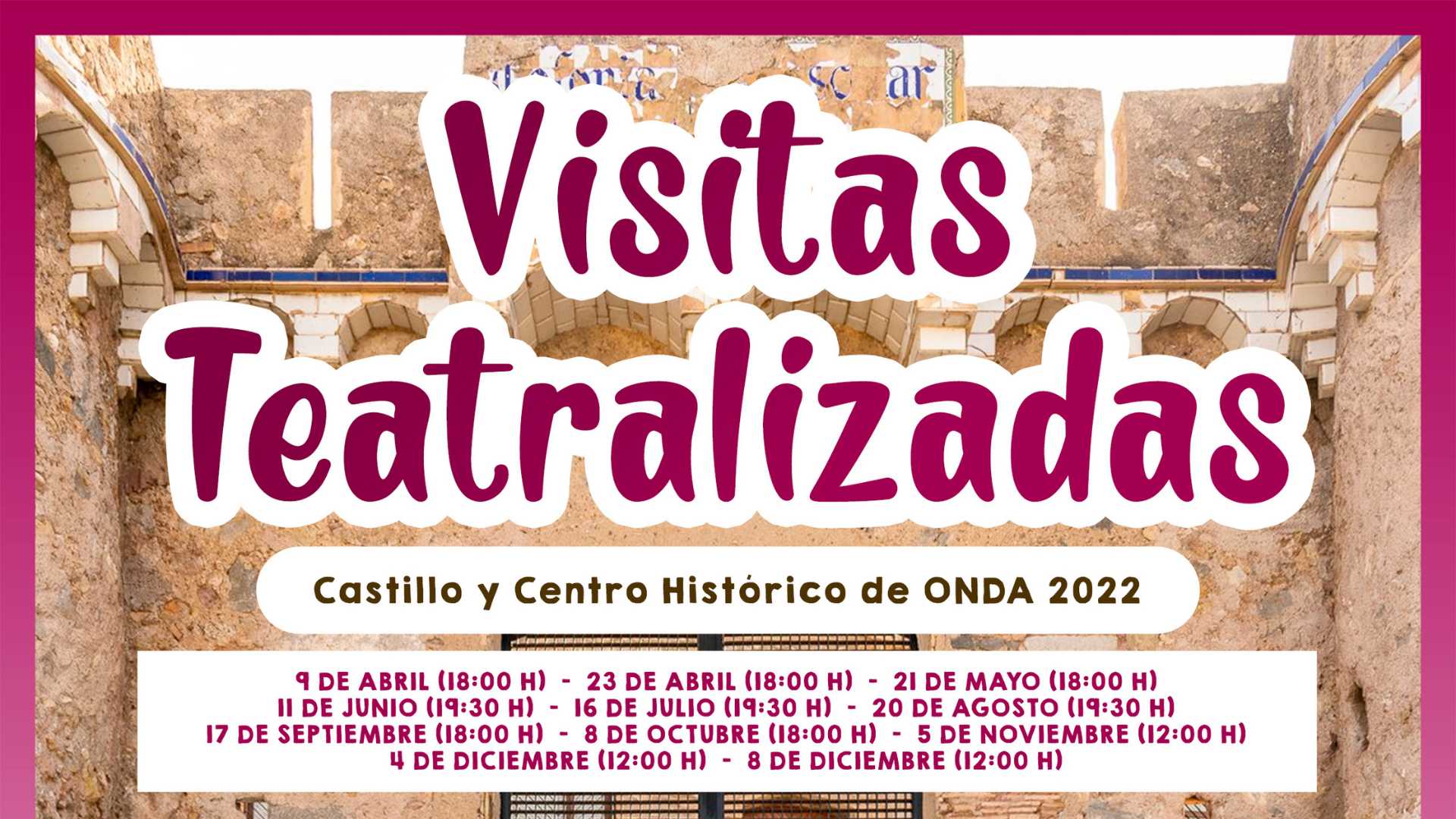 The summer is here and to celebrate Onda is putting on living history tours at Castillo de las 300 torres. This programme of free events will take you on an exploration of the town's historic and cultural heritage. You will visit some of Onda's most interesting sights, accompanied by actors and actresses wearing period dress who will bring the history to life. Along the way, you'll learn all sorts of interesting facts about this beautiful part of Plana Baixa. So what are you waiting for? Sign yourself up to this experience to learn something new while having a great time.
*Please confirm event times and dates have not changed.