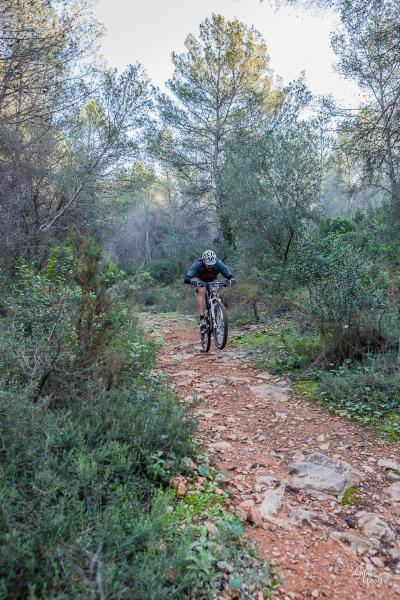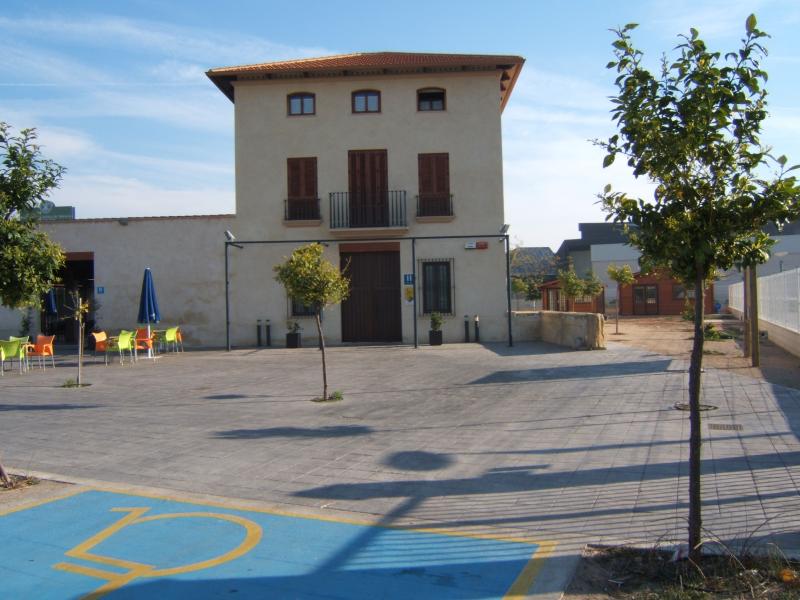 Casa Blava, Avda. Adrián Campos Súñer, s/n
46600

contact information
The Centre BTT la Ribera is located in La Casa Blava Restaurant & Hotel , in the town of Alzira, from where the various cycle routes to tour the region that names the BTT center depart.

With a total of nine routes and 415 marked kilometers, you can bike around different scenarios of the Ribera region, crop fields and water infrastructure, and cultural landscapes, such as the route of the monasteries. The transitions of the Ribera plain to the mountains, full of natural areas such as the Murta and Casella, of great natural beauty, surprise the voyager with its geography and its botanical diversity.

The town of Alzira provides a valuable artistic heritage thanks to its historic walled center, labelled as Heritage of Cultural Interest. Besides, we can practice walking activities among the orange trees and valleys that surround the nearby mountains, where beautiful examples of rural architecture of the late nineteenth and early twentieth rise.

The munipality features two sharp contrasts. On one hand, the floodplain of the Xúquer River, the fertile fields of which is full with large orange orchards and watered by innumerable canals taking water from the Royal Xúquer Canal. On the other hand, the mountains of Corbera, Cavall and les Agulles, crowned by sharp ridges, where orange trees climb up their skirts until they give way to pine forests.

The Monasteries Route , with over 142 marked kilometers, runs along the historic route of the same name and can be scoped in stages. The route is circular and has the town of Alzira as the starting and returning point. It offers the visitors an interesting cultural and historic heritage full of interesting landscapes through the regions of Safor, the Albaida Valley (Vall d'Albaida) and Ribera Alta.

It links five major monasteries: Monastery of San Jerónimo de Cotalba, Convent of Corpus Christi, Monastery of Santa Maria de la Valldigna, Convent d'Aigues Vives and Monastery of Our Lady of the Murta.

The nearby towns, such as Tous and Llombai are also the starting point of some of the nine routes offered by the La Ribera BTT Center.
More information
Other information
La Ribera BTT Center Reception Point:

La Ribera BTT Center
La Casa Blava Restaurant & Hotel
Adrián Campos Súñer av.
46600 Alzira (València)
Phone: +34 962 417 414 / +34 627 032 939
Email: info@casablavaalzira.com
Web: www.casablavaalzira.com
Opening Hours: from Monday to Saturday from 9h am to 11h pm. Sundays from 9h am to 6h pm.

BTT Workshop:

Opening Hours: From Monday to Friday from 9h am to 1:30h pm and 5h pm to 8h pm. Saturdays from 9h am to 2h pm and 5 h pm to 8:30 pm.
Phone: +34 962 406 028
Email: bikesvalencia@vferrer.com

Reception point services:

* Bicycle Rental
* Bike washing point
* Changing rooms and showers
* Accommodation and catering
Other phone numbers of interest:

Tourist Info Alzira: +34 962 419 551
Tourist Info Cullera: +34 961 731 586
Tourist Info Montroi: +34 962 555 986
Tourist Info Gandia: +34 962 877 788
Tourist Info Tavernes de la Valldigna: +34 962 885 264
#ROUTES
ROUTES

| | | | | | | |
| --- | --- | --- | --- | --- | --- | --- |
| Alzira a Cullera | Pto. acogida Alzira | Easy | 31.4 km | 2h 30' | 103 m | |
| Alzira-Cova Negra | Pto. acogida Alzira | Easy | 35.2 km | 3h | 472 m | |
| Alzira y Alfarp | Pto. acogida Alzira | Easy | 24.3 km | 2h 30' | 122 m | |
| Canal Xúquer-Túria | Pto. información Tous | Easy | 36.7 km | 3h 30' | 267 m | |
| Carcaixent circular | Pto. acogida Alzira | Easy | 40.7 km | 3h 45' | 375 m | |
| Llombai y Alfarp | Pto. información Llombai | Difficult | 21.3 km | 2h 10' | 498 m | |
| Llombai y Montroi | Pto. información Llombai | Difficult | 37.8 km | 4h 10' | 667 m | |
| Ruta dels Monestirs | Pto. acogida Alzira | Very difficult | 142.5 km | 13h 30' | 2393 m | |
| Tous circular | Pto. información Tous | Difficult | 45.7 km | 4h 40' | 1.073 m | |