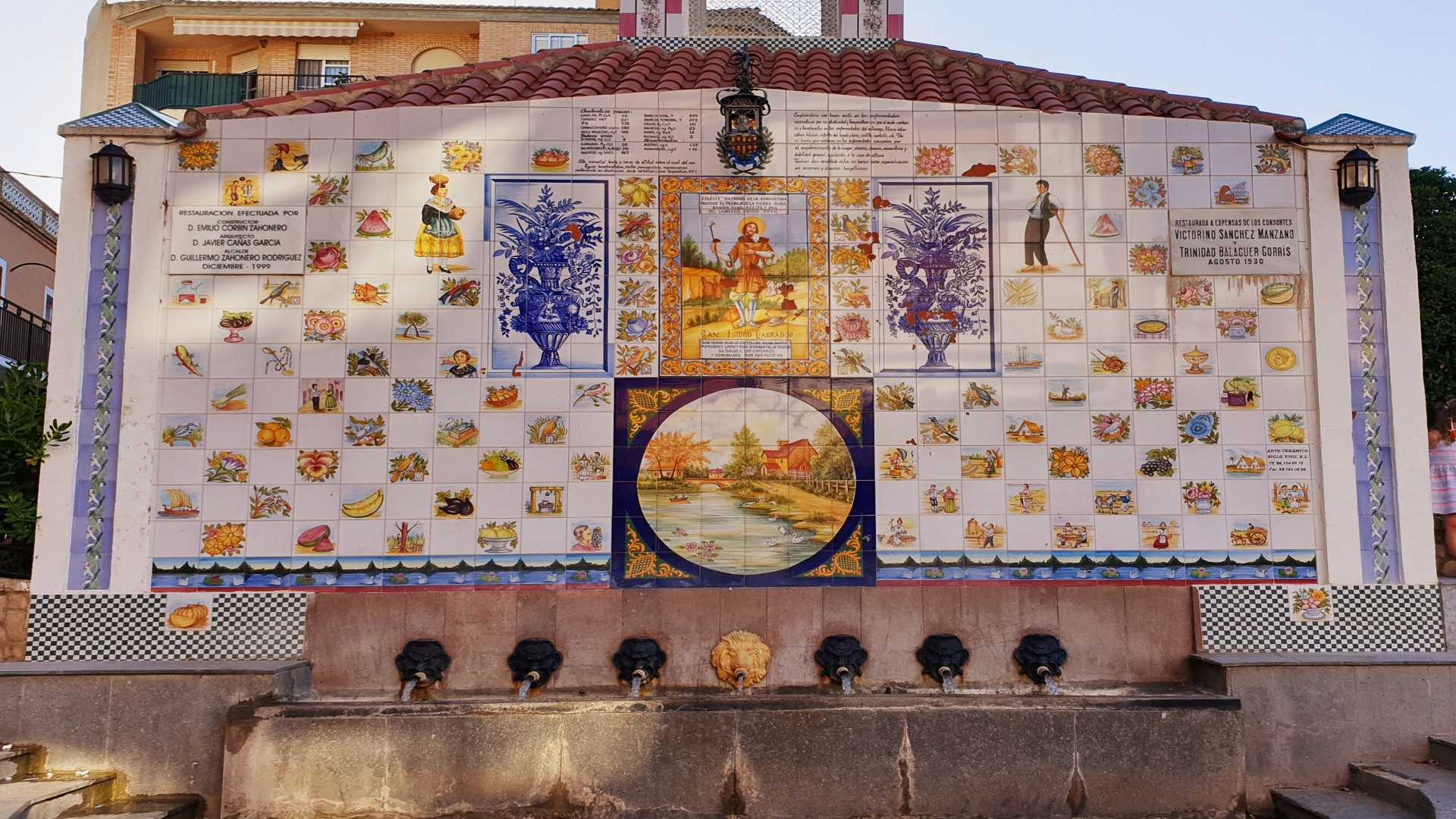 Av. de la Fuente s/n

contact information
Considered the symbol of the town, this modernist-style fountain is named for the number of pipes that provide water. The fountain is on one of the facades of a small three-sided construction and is attached to another with a flat roof where the well is. It has a marked ornamental character as it is decorated with a large panel of tiles on the wall that supports the water outlets. These tiles are interspersed as a checkerboard: some have a theme that refers to traditional trades, customs or regional dances, and others are blank. In the central part of the fountain there is also a ceramic panel, formed as a mosaic with tiles of the same size as those mentioned above, in which Saint Isidro Labrador is represented. On both sides of this image there are tiles with floral motifs and two mosaics with two vases in blue on either side.
In the lower part of the saint there is another mosaic that represents a landscape of a river and some houses. The bronze spouts of the fountain are not exempt from this decorative style, simulating the heads of monsters, except for the central one that represents a lion's head. The building is finished off with a square structure closed with metal mesh and adorned with tile. In the part behind the fountain is the entrance to the well, having a greater sobriety and highlighting the corners, made of exposed brick painted red, the rest being whitewashed. In the fountain there are two plates with two inscriptions in which reference is made to the two restorations that the fountain has had. It is thought that its origin could be in the Muslim era when the network of ditches, the Raft (supplied by the surplus of this source), and the Small Mill (nowadays disappeared) were built in Siete Aguas. Its water is highly valued by all the inhabitants of Siete Aguas and by the visitors who come to the municipality attracted by its high medicinal value.