The José Benlliure Home Museum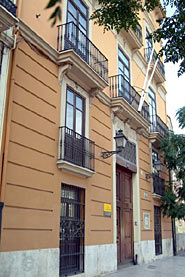 Calle Blanquerías, 23
46003

contact information
More information
Schedule
Tuesdays to Saturdays : 9.30a.m. to 2p.m. and 4.30p.m. to 8p.m.
Sundays and Holidays : 9.30a.m. to 2p.m.
This house recreates the atmosphere in which Jose Benlliure and his family lived, typical of a bourgeois household from the end of XIX century. The visitors' lounge, the study, the dining-room and the bed-room are all worthy of note, as are the paintings, the ceramics, sculptures and drawings by the Benlliure brothers, and the works of Sorolla and Muñoz Degraín amongst other Valencia painters.