Museo de Bellas Artes de Alicante (MUBAG)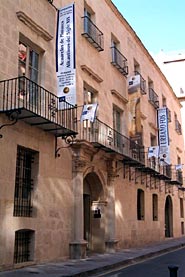 C/ Gravina
13-15
03002

contact information
Come to Museo de Bellas Artes de Alicante to marvel at incredible artwork housed in a spectacular palacio.
More information
Schedule
July and August: Tuesday to Saturday from 11.00 to 21.00 . Sundays and holidays from 11.00 to 15.00 . Closed Monday. Rest of the year : Tuesday to Saturday from 10.00 to 20.00 . Sundays and holidays from 10.00 to 14.00 . Closed Monday.
Museo de Bellas Artes de Alicante, or MUBAG for short, is one of the most important galleries in the city. It displays works of fine art made between the Middle Ages and the early 20th century. All the pieces have been donated by Diputación Provincial.
One of the biggest attractions of the museum is the building housing it. Palacio Gravina is an 18th century property that has undergone extensive renovation work to become MUBAG. The building was connected to the king and originally belonged to the Count of Lumiares. The magnificent palacio was constructed on the site of buildings destroyed during the Wars of Spanish Succession.
The façade of Alicante's Fine Art Gallery is spectacular. Inside, the vast and airy ground floor is defined by many arches. Historically, this space was used to store goods from the port. The main staircase with its elegant vaults separates the first floor and the service floor.
The MUBAG collection features great representatives of Alicante art, including Joaquín Agrasot, Emilio Varela, Fernando Cabrera, Plácido Francés and more. The gallery also hosts temporary exhibitions, which to date have covered everything from Mediterranean abstraction to women's art in the late 19th and early 20th centuries.
As you step foot inside Museo de Bellas Artes de Alicante, you will find yourself standing in front of local art with a universal reach. During your time in Alicante, take a stroll around the historic centre and stop off at this grand palacio to marvel at its priceless artwork.