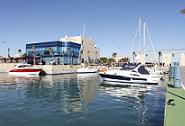 Marina Port Castelló, located in the interior dock of Castellón's harbor, offers the latest advances in nautical management. In addition, it offers a unique and very attractive leisure environment, where visitors may enjoy the best restaurants and leisure establishments, from the Gran Casino in Castellón to the smaller docks in the marina. Because of its proximity to Eivissa - only 85 miles separate it from the island - it is an ideal destination for boat enthusiasts wishing to navigate near the Balearic Islands.
Marina Port Castelló, which bears the ECOPORT seal of distinction since its opening, is known for its concern for the care and sustainability of the environment.
Inside its facilities, visitors may find different business offering complete yacht brokerage services, as well as La Marina restaurant with its singular nautical terrace. Marina Port is also home to the facilities of the Castellón Yachting Club, offering single-seaters and teachers for those wishing to take yachting lessons. The Club organizes several races throughout the year.
# SPECIALTIES
Nautical clubs and marinas
#CHARACTERISTICS
coordinates
39º 58,464' N\000º 01,055' E
Concessionaire
Marina Port Castelló, S.L.U.