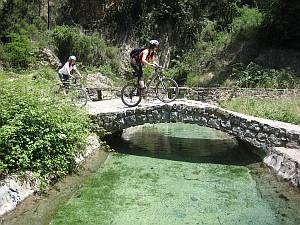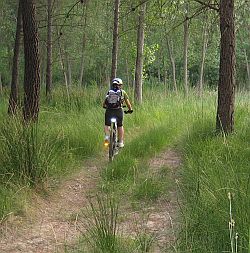 The town of Aras de los Olmos, in Valencia province, is home to Los Serranos ATB Centre. The municipal districts in the region of the same name, through which the proposed itineraries run, are situated in a unique natural enclave, bounded by the river Turia and the foothills of the Sierra de Javalambre.

The ATB Centre makes a total of 16 routes available to tourists, passing through the municipal districts of Aras de los Olmos, La Yesa, Titaguas, Chelva, Tuéjar and Alpuente, with the information points in these last two, from where the routes themselves start out.

Warning:

The Zagra-Bercolón route has a signaling problem: lack a direction sign up to the Olmedilla (in the river). Therefore it is advisable not to follow that route. You are advised to take the tracks route in the GPS. It is also possible advice from Los Serranos BTT Centre in Aras de los Olmos.
More information
Other information
Los Serranos BTT Centre Reception PointLos Serranos BTT Centre Aras RuralPartida de la Nevera, s/n46179 Aras de los Olmos (Valencia)Tel. +34 962 102 236 / +34 639 196 928 / +34 606 421 007Mail: arasrural@arasrural.com / hotel@arasrural.com Web: www.arasrural.com Services reception point:
* Bicycle rental
* Bicycle washing points
* Locker rooms and showers
* Accommodation and catering
Getting there:Los Serranos BTT Centre is located in the resort Aras Rural, in the town of Alpuente, which is accessed by the CV-35 road between Valencia and Ademuz.
#ROUTES
ROUTES

| | | | | | | |
| --- | --- | --- | --- | --- | --- | --- |
| Ahillas-El Mozul | Pto. información Tuéjar | Difficult | 28 km | 2h 48' | 636 m | |
| Alpuente-Arquela | Pto. información Alpuente | Easy | 20 km | 2h | 541 m | |
| Aras-Alpuente | Pto. acogida Aras | Difficult | 32 km | 3h 12' | 895 m | |
| Aras "tour" | Pto. acogida Aras | Easy | 16 km | 1h 36' | 297 m | |
| Aras-Tuéjar | Pto. acogida Aras | Very difficult | 69 km | 6h 54' | 1.753 m | |
| Barchel-Barraquena | Pto. información Tuéjar | Very difficult | 41 km | 4h 06' | 1.239 m | |
| Buena Leche | Pto. información Tuéjar | Very difficult | 25 km | 2h 30' | 647 m | |
| La Escaleruela | Pto. acogida Aras | Difficult | 17 km | 1h 42' | 574 m | |
| La Yesa-El Sancho | Pto. información Alpuente | Difficult | 37 km | 3h 42' | 861 m | |
| Losilla de Aras | Pto. acogida Aras | Easy | 15 km | 1h 30' | 320 m | |
| Mampedroso | Pto. acogida Aras | Easy | 19.36 km | 1h 54' | 432 m | |
| Pedanías de Alpuente | Pto. acogida Aras | Difficult | 40 km | 4h | 952 m | |
| Rubiales-Espartosas | Pto. acogida Aras | Difficult | 22 km | 2h 12' | 695 m | |
| Senda Valdeagua | Pto. acogida Aras | Very difficult | 28 km | 2h 48' | 749 m | |
| Tuéjar-Acequia | Pto. información Tuéjar | Easy | 14 km | 1h 24' | 245 m | |
| Zagra-Bercolón | Pto. acogida Aras | Very difficult | 44 km | 4h 24' | 1.331 m | |