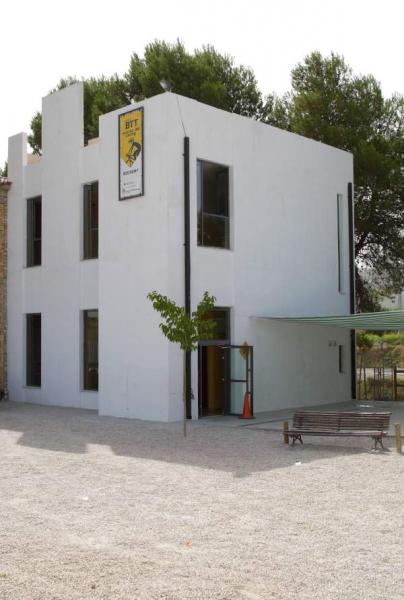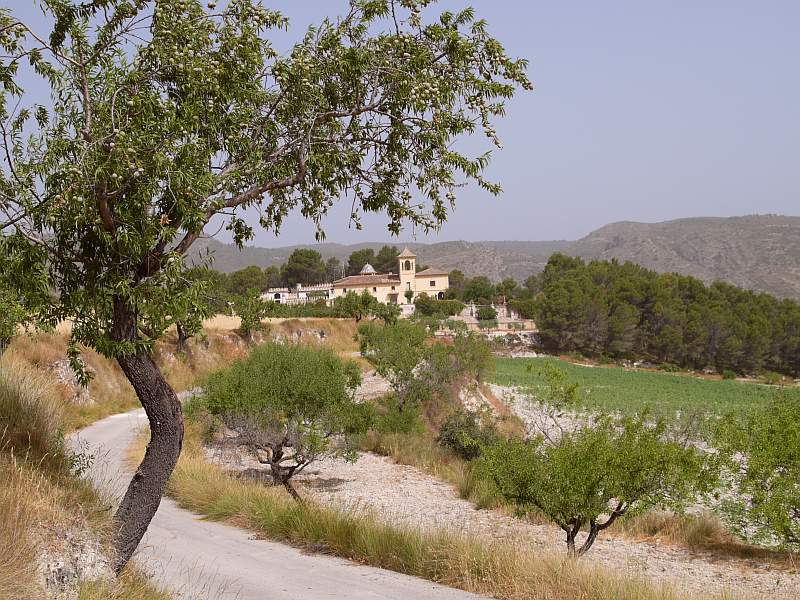 The Les Alcusses guesthouse, located in the Moixent municipal district, hosts the Massís del Caroig Mountain Biking centre, the starting point for most of the trails through the Canal de Navarrés, Costera and Vall d'Albaida districts, all of which are in the southern part of the Valencia Region. The Caroig mountain range, an imposing limestone mass that marks the transition between the Baetic and Iberian mountain systems, stands between those districts, and nine signposted mountain biking trails go through it. The varied landscapes are one of the main draws of the trails offered by this mountain biking centre. Alongside the rich backdrops, there are also many tourist resources available in the area (the nearby Bastida de les Alcusses, one of the most important Iberian archaeological digs in the Valencia Region, wine tourism, or the possibility to enjoy the valuable natural scenery in the surroundings) are all great draws for cyclists visiting the centre.

The Macizo de Caroig mountain biking centre offers a total of nine trails, for a total distance of 442 km. Apart from the Alcusses guesthouse, they also offer the information points located in Enguera and Navalón de Arriba as starting points for their trails.
More information
Other information
Meeting point of the Massís del Caroig mountain biking centre
Massís del Caroig mountain biking centre
Alcusses guesthouse
The Moixent-Fontanars road, km 8
46640 Moixent (Valencia)
Tel: +34 962 920 054
Email: info@naturjove.es
Webpage: www.naturjove.es
Naturjove office opening hours: Monday to Friday, from 9.00 to 18.00 h.
Guesthouse opening hours: Monday to Sunday, from 10.00 to 16.00 h.
Services at the meeting point:

* Bicycle rental
* Bicycle cleaning spots
* Locker rooms and showers
* Food and lodgings
* Adventure sports and active tourism
* Rural and crafts activities
How to get there:

You can access the Massís del Caroig mountain biking centre, which is located in the Alcusses guesthouse, through the CV-652 road, which connects the town of Moixent to Fontanars dels Alforins, near the A-35, the motorway that connects the Valencia Region with the centre of Spain.
#ROUTES
ROUTES

| | | | | | | |
| --- | --- | --- | --- | --- | --- | --- |
| Ahillas-El Mozul | Pto. información Tuéjar | Difficult | 28 km | 2h 48' | 636 m | |
| Alpuente-Arquela | Pto. información Alpuente | Easy | 20 km | 2h | 541 m | |
| Aras-Alpuente | Pto. acogida Aras | Difficult | 32 km | 3h 12' | 895 m | |
| Aras "tour" | Pto. acogida Aras | Easy | 16 km | 1h 36' | 297 m | |
| Aras-Tuéjar | Pto. acogida Aras | Very difficult | 69 km | 6h 54' | 1.753 m | |
| Barchel-Barraquena | Pto. información Tuéjar | Very difficult | 41 km | 4h 06' | 1.239 m | |
| Buena Leche | Pto. información Tuéjar | Very difficult | 25 km | 2h 30' | 647 m | |
| La Escaleruela | Pto. acogida Aras | Difficult | 17 km | 1h 42' | 574 m | |
| La Yesa-El Sancho | Pto. información Alpuente | Difficult | 37 km | 3h 42' | 861 m | |
| Losilla de Aras | Pto. acogida Aras | Easy | 15 km | 1h 30' | 320 m | |
| Mampedroso | Pto. acogida Aras | Easy | 19.36 km | 1h 54' | 432 m | |
| Pedanías de Alpuente | Pto. acogida Aras | Difficult | 40 km | 4h | 952 m | |
| Rubiales-Espartosas | Pto. acogida Aras | Difficult | 22 km | 2h 12' | 695 m | |
| Senda Valdeagua | Pto. acogida Aras | Very difficult | 28 km | 2h 48' | 749 m | |
| Tuéjar-Acequia | Pto. información Tuéjar | Easy | 14 km | 1h 24' | 245 m | |
| Zagra-Bercolón | Pto. acogida Aras | Very difficult | 44 km | 4h 24' | 1.331 m | |