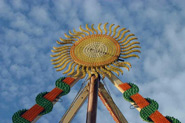 The November Fair is both a commercial and a playful fair, with modern attractions and spectacles and it's celebrated the 3rd weekend of November.
Now, focused on stalls of thousand products and a whole list of mechanical attractions, was born by royal privilege in 1418 and there has always been stiff competition between Ontinyent, Albaida and Cocentaina to attract the best rides to their respective fairs, as, for centuries, the celebration of a successful fair was vital for the economic well-being of a town.
One of the most important culinary traditions of Ontinyent is the Coca de Fira, which is similar to pizza and made with pork, our famous onion sausages and vegetables and a local delicacy, wild mushrooms called "pebrassos". The mushrooms that the expert seekers of Ontinyent find in these autumnal weeks.
More information
Schedule
From 19th to 22th November
Type of interest
Autonomous tourist interest