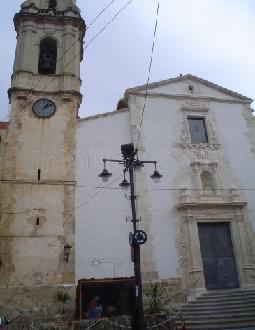 Plaza Mayor, s/n
03450

contact information
Banyeres de Mariola is bursting with fascinating monuments. Discover Santa María church and all the artistry it holds.
As you wander the streets of Banyeres de Mariola, before long you will find yourself in Plaza Mayor, the main square, which is home to one of the most historic buildings in the town, Santa María church.
This Neoclassical church has a Latin cross floor plan. Many of the bricks used to build its walls came from an age-old place of worship that was situated at the foot of the castle, in the site where the town theatre currently sits.
A number of fan-shaped steps lead up to the Baroque entrance door which invites you into the church. Once inside, a number of elements will catch your eye, such as the communion chapel whose roof was built in the Byzantine style in the 19th century.
Another feature that is worth a mention is the bell tower. Following the destruction of the original during the Spanish Civil War, work started in 1950 to rebuilt it. The utmost care was taken to make the new tower as similar as possible to the one it was replacing, even though cement was used rather than bricks (which you can still see in the parts of the tower that were not destroyed).
Santa María church is just one of the buildings that speaks of Banyeres de Mariola's past. If you are keen to find out more, take a stroll and stop off at the castle, Santa María Magdalena chapel and Casa de Cultura.