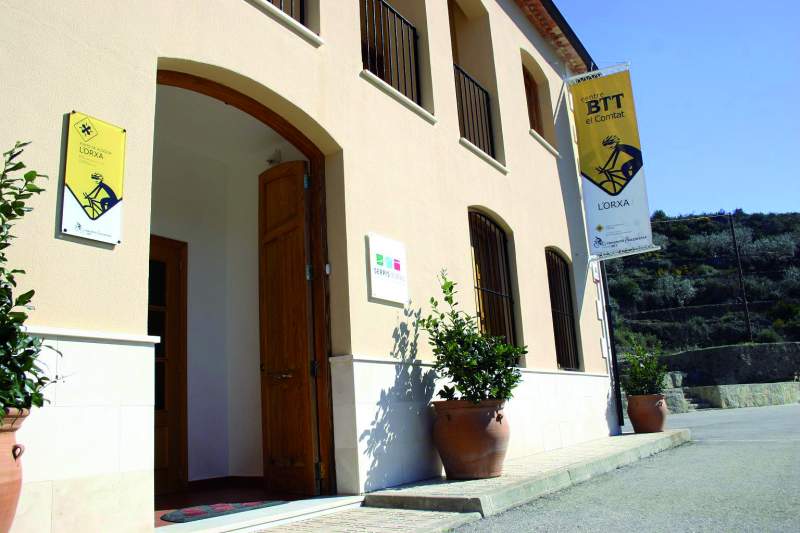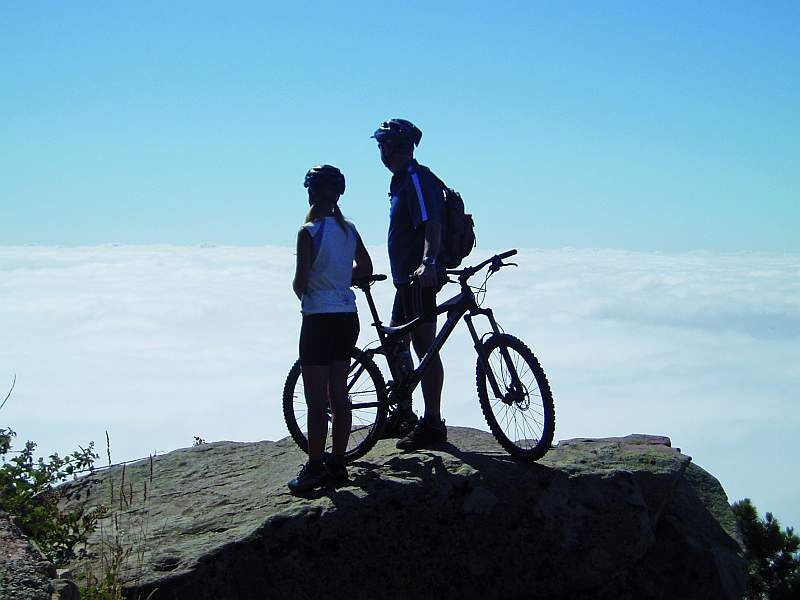 This center will be closed until further notice
------------------------------------

The BTT Center El Comtat has its meeting point at the Albergue del Serpis (Serpis Hostel), in the Alicante town of l'Orxa , in the region of El Comtat, near the towns of Cocentaina, Muro de Alcoi and the city of Alcoi. From the BTT Center, the Serpis Greenway or Vía Verde del Serpis , is easily accesible. The Serpis Greenway is a track connecting the coast, starting in the town of Gandia and finishing in the interior area of Alicante. The tracks and routes proposed by the BTT Center run through the mountains that surround the stretch of river Serpis before they delve into l'Estret de l'Infern, (Hell's Narrow Way), the only possible way towards the sea and the coastal plains. Here the valley is closed and in the most demanding routes, the journey indicated goes up the anticlines to leave the valley and then continue through the slopes without losing altitude, to descend towards other parallel valleys such as the Vall del Vernissa, the Vall de Gallinera or the Vall d'Alcala.

An excursion comprising a distance of almost 255 km is proposed, in nine routes of varying difficulty. The tracks are clearly marked and accessed from the meeting point in L'Orxa and from the information points located in the municipalities of Beniarrés and Planes .

From 2015, the BTT Center El Comtat has a new information point located in the Hermitage of Sant Vincent in the Valencian town of Agullent, from where five new tracks with a total of 176 km start, thus broadening the possibilities for the users. More information on routes and services on the phone (+34) 96 290 71 16

The new routesconnect two mountain bike centers: El Comtat and Massís del Caroig massif in Moixent. In addition, you can visit places like the villages of Ontinyent, Albaida, Carrícola, Otos, Pobla del Duc, Bocairent, Banyeres de Mariola, etc.
More information
Other information
Meeting point of the El Comtat BTT Center:

El Comtat BBT Center
Serpis Hostel
Partida Fontetes, s/n
03860 L'Orxa (Alicante)
Phone: +34 966 511 869 / +34 630 992 488
Email: tururac@tururac.com
Website: www.tururac.com

Meeting point services:

* Repair workshop and spare parts
* Mountain bike rental, all sizes, adults and children
* Washing point
* Shower service
* Vehicle combination service
* Own parking lot
* Information on all routes
* Additional services: Lodging, meals, lunch
Other phone numbers of interest:

Cocentaina Tourist Info: +34 965 590 159
Muro de Alcoy Tourist Info: +34 965 532 071

Directions:

El Comtat BTT Center is accessed from the A-7 autoway, exit Muro de Alcoy.

#ROUTES
ROUTES

| | | | | | | |
| --- | --- | --- | --- | --- | --- | --- |
| Agullent | Pto. información Agullent | Easy | 11.85 km | 1h 40' | 375 m | |
| Agullent-Casa Buenos Aires | Pto. información Agullent | Difficult | 23.53 km | 2h 15' | 692 m | |
| Barranc de l'Encantada | Pto. acogida L'Orxa | Difficult | 29 km | 3h | 729 m | |
| Camí Vell d'Ontinyent a Gandía | Pto. información Agullent | Difficult | 41.75 km | 3h 30' | 667 m | |
| Circular a la Safor | Pto. acogida L'Orxa | Difficult | 22.5 km | 2h 30' | 594 m | |
| Circular al Benicadell | Pto. acogida L'Orxa | Very difficult | 35.6 km | 4h 30' | 851 m | |
| Estret de l'Infern | Pto. acogida L'Orxa | Easy | 23.8 km | 2h | 336 m | |
| L'Albureca | Pto. acogida L'Orxa | Difficult | 19.5 km | 2h 30' | 602 m | |
| La Solana | Pto. informació Beniarrés | Very difficult | 19.2 km | 2h 30' | 601 m | |
| L'Orxa Beniarrés | Pto. acogida L'Orxa | Easy | 16.6 km | 1h 20' | 187 m | |
| Ombría del Benicadell | Pto. información Agullent | Very difficult | 43.81 km | 5h 45' | 1.944 m | |
| Ontinyent-Bocairent-Vía Xurra | Pto. información Agullent | Very difficult | 55.11 km | 4h 30' | 1.040 m | |
| Vall d'Albaida | Pto. acogida L'Orxa | Very difficult | 40.6 km | 4h 30' | 703 m | |
| Vall d'Alcalà | Pto. informació Planes | Very difficult | 40 km | 4h 30' | 1.413 m | |