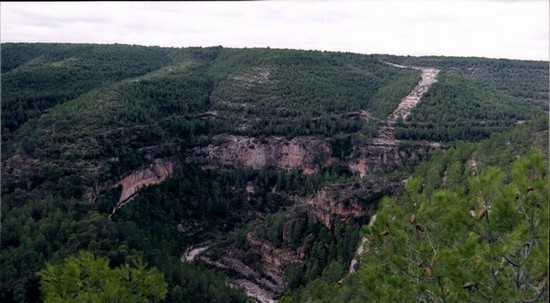 Enjoy your favourite outdoor activity amid the stunning scenery of Ceja del río Grande.
Some areas of natural beauty are so stunning that they both take your breath away and instil a sense of peace within. A case in point is Ceja del río Grande, a great hillside that runs parallel to the road of the same name in the village of Navarrés.
The scenery here has been blessed with the touch of mother nature. Verdant woodland meets rocky crags to create an enthralling landscape inhabited by fascinating wildlife, which you might just be lucky enough to catch sight of.
Ceja del río Grande is nothing short of paradise for lovers of adventure sports. The rugged and steep terrain lends itself to a variety of outdoor activities, from trekking and canyoning to caving and mountain climbing.
There is a hiking route that is ideal for spending quality time with all the family. As you walk, you will come across incredible sights such as Fuente el Pino spring, Las Quebradas pool, Escalona dam, Playamonte lake and much more.
A wonderful place to get your fill of the great outdoors.