El Comtat: a county that breathes rural charm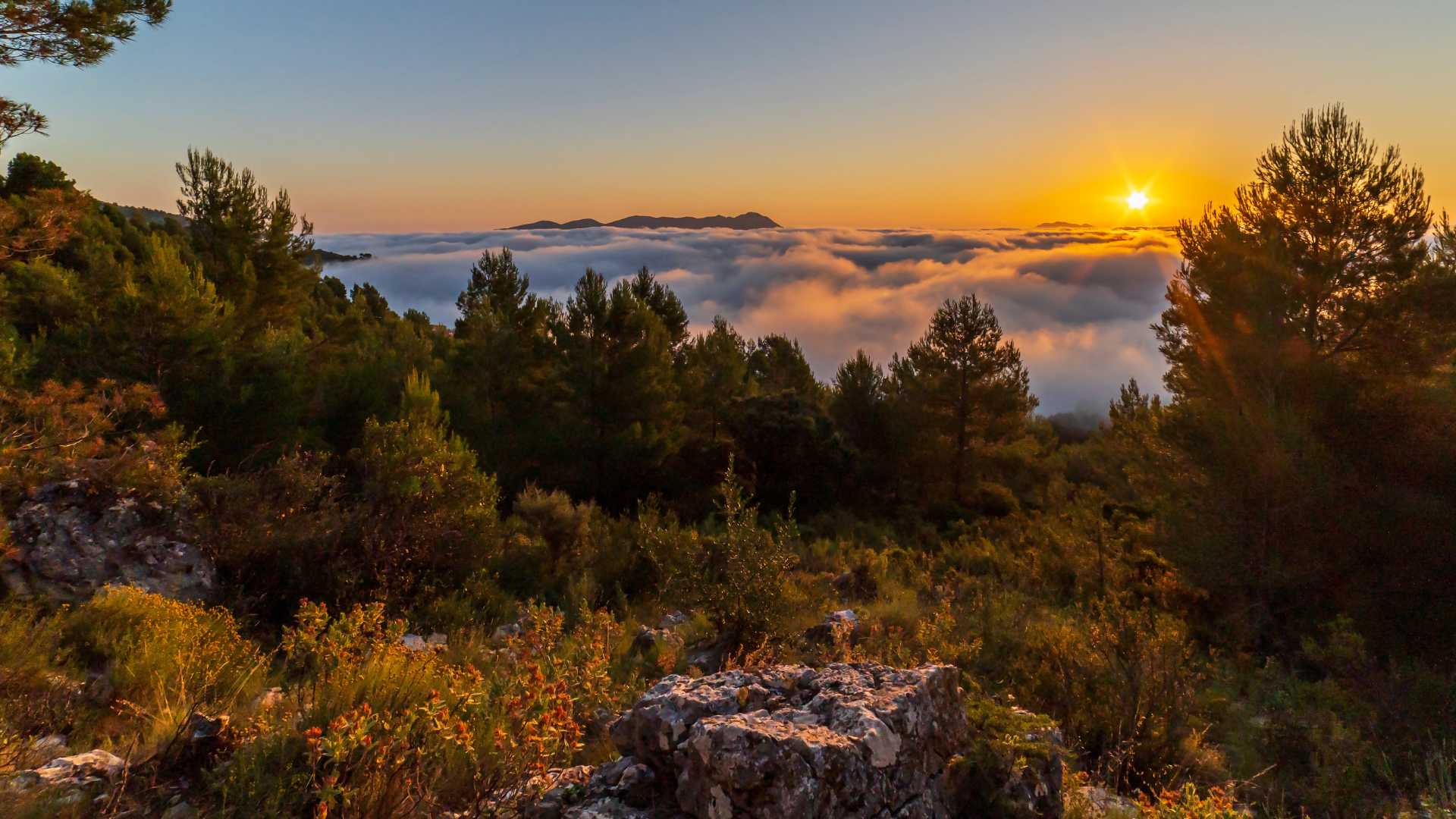 Agres, Alcocer de Planes, Alcoleja, Alfafara, Almudaina, Balones, Benasau, Beniarrés, Benilloba, Benillup, Benimarfull, Benimassot, Cocentaina, Facheca, Famorca, Gorga, Muro de Alcoy, Millena, Planes, Tollos
Come and explore a special county where great landscapes and cultural heritage combine to create unforgettable experiences. Welcome to El Comtat.
Located in inland province of Alicante, El Comtat is a county that is bursting with mother nature, making it a favourite spot among hikers. You can walk the unforgettable trails and routes snaking Sierra de Mariola Natural Park and savour some delicious gastronomy. Come with us to explore the county's towns, villages and points of interest and find yourself falling in love with this part of the Region of Valencia.
What to see in El Comtat
The sheer mountains and leafy woodland of El Comtat are populated with charming destinations where you can sit down to enjoy a tasty dish of pericana and do some sightseeing. We are going to start our explorations in Agres, where you can visit Cava Gran, a brick-built ice house dating to the 17th and 18th centuries nestled in the mountains.
Our next stop is Alfafara where you can savour quality olive oil and walk incredible trails in Sierra de Mariola. In Benasau, we'd recommend visiting the wash house, the Roman bridge and Ares Castle where you can take some incredible photos.
Our tour of El Comtat continues in Beniarrés, a great place to do some wild swimming in the natural pools formed at the mouth of L'Encantà Gorge or visit Cova de l'Or archaeological site which you can enjoy exploring on a guided tour. Next up, in Benilloba you simply have to visit its main attraction, Salt de Benilloba, a beautiful waterfall located close to an old power station. With its mills, wash houses and more, water has defined the landscape here.
And our explorations don't stop here. Immerse yourself in the magic of Benillup where the rural architecture and cobbled streets will transport you back to yesteryear. Benimassot is a peaceful country village where you can gaze at picturesque spots and walk countless hiking trails that promise a great day out.
History-steeped Cocentaina will take you aback with its Count's Palace and fascinating legacy. Make sure you take time to visit the streets, castles and the walled part of the town, all of which have a great value. In Fageca you will be enveloped by the beauty of the naturescapes where you can follow trails that will lead you all the way up to the peak of Sierra de Serrella.
Just four minutes away you will find Famorca, a small mountain village where you can explore the church and cobbled streets. Muro de Alcoy, meanwhile, will blow you away with its historic charm and unique festivities. During your time here, make sure you visit the fascinating archaeological site of Cova de Beneito and the historic centre which is populated with some architectural treasures.
Next, make your way to Planes and Tollos where you can breathe in the tranquillity of mother nature, explore the scenery and feel yourself unwind. The latter is on Ruta 99, a list of municipalities with fewer than 100 inhabitants in the Region of Valencia.
Counting over twenty towns and villages, El Comtat is characterised by an abundance of natural resources that form great landscapes and environments. Meanwhile, the local historic heritage makes this inland part of the Costa Blanca an excellent destination for cultural and active tourism.
The county is dominated by spectacular naturescapes such as Sierra de Mariola Natural Park and El Carrascal de la Font Roja Natural Park, where you can make incredible memories. And the gastronomy is defined by its variety and originality as well as age-old dishes made with local products, just as tradition dictates.
Returning to our journey, we are now heading to Alcocer de Planes, a destination where tranquillity and history fuse, followed by Alcoleja, a small village swept up in natural scenery where you can enjoy picturesque trails. In Almudaina, the impressive castle will take you on a journey back in time while in L'Alqueria d'Asnar, you can enjoy the rural atmosphere and La Transfiguración del Señor Church.
In Balones you will be blown away by the traditional architecture and castle dominating the landscape while in Benimarfull you can soak up the historic heritage and enjoy the welcoming atmosphere. Visit Quatretondeta to take a look around La Asunción Church and its picturesque spots.
Gaianes will wow you with its castle and natural scenery and Gorga is calling out for you to explore its architectural and cultural heritage. Nestled in a beautiful valley, Lorcha is the perfect place to enjoy the naturescape and tranquillity. Last but by no means least, Millena is worth a visit to explore the church and charming streets.
In El Comtat, each and every municipality is a treasure waiting to be explored in a unique experience that will connect you with the county's cultural and natural charm. From historic monuments to mountain landscapes, this is a marvellous destination that will embrace you with characteristic charm.