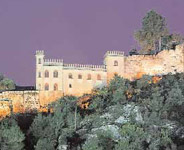 This route takes you from the city of Buñol, in the region of Hoya de Buñol,to the city of Xàtiva, the capital of La Costera. Your journey will take you past mosaics of unirrigated fields dominated by grapevines and olive, carob and almond groves. The villages are still touched by the tranquillity of rural life and boast popular architecture that blends perfectly with the surrounding countryside.

During the first part of your journey, you will pass by water pools and plentiful springs as you travel from the Buñol plain to the bed of the River Júcar, where you will cross the astounding ravine that the river has painstakingly carved out of the rocks. From the River Júcar, you will travel along the eerie stretch of the route that takes you from Millares to Bicorp, a solitary and perturbing part of the journey that is characterized by stunning ravines, cliffs, outcrops and hills.

A little further on, on your right, you will be struck by the mass of the Cortes de Pallás Mountain and the Macizo de Caroig hills, where you will find prehistoric cave paintings that have now been declared World Heritage Sites. Here, the remains and traces of dinosaurs can also be found. The route is enriched by the natural and cultural heritage that has sprung up around the river.
#CHARACTERISTICS
Route
From Buñol to Xàtiva, via Alborache, Macastre, Dos Aguas, Millares, Bicorp, Quesa, Navarrés, Bolbaite, Chella, Anna, Enguera, Montesa and Canals
Map